Who doesn't want to put some extra cash in their pocket for a rainy day? If you're looking for ways to get free money with little to no effort, I've got just the resource for you!
Below are several options to make some extra money with daily tasks that you probably already do every day!
Now, these options won't make you rich, but you'd be surprised how fast a couple of dollars can add up. Once you learn how to manage and save money better it can even multiply!
Is it really free?
Now is there such thing as completely FREE money? Well, not really since the money won't literally be falling down from the sky. However, most of these options require virtually no effort or thought, just a reminder to open an app!
The options below are not jobs or side hustles, but merely simple things you can do easily while doing things that you already to.
You may have to do a little work for it, like download an app or complete a survey, but it's all pretty mindless. It can literally be done as you're in line at the grocery store or sitting on the toilet.
Get Free Money for Things You Already Do
What can be better than watching dollars and cents add up for things that you have already been doing? You'll realize how much money you were leaving on the table when you see how simple these tasks are.
If you're already grocery shopping, walking through the mall, or shopping online, your regular habits could get you some free money!
Some of the options are completely passive where you don't have to think about it when you do the money-making task, but some may require you to scan a product code or take a photo of a receipt. Still very simple if you ask me!
1. Get free money for shopping
There are several apps that you can use when shopping both online and in the store. Some even offer a bonus just for signing up.
You should almost never make a purchase without knowing you'll be getting cash back or reward points for it. You can also couple these with your own credit card rewards programs that can get you double cashback.
This site is one of the most popular. Rakuten gives you cash back on many purchases you would make both online and in-store.
How it works: When you sign up for a Rakuten account, you'll automatically get a $10 bonus in your account after your first purchase of $25 at a participating retailer.
Since there are over 2,500 stores affiliated with Rakuten, including Target, Amazon, Groupon, Walmart, etc, it's not difficult to do. You just have to remember to always sign into Rakuten BEFORE making a purchase to get the credit and cash back.
Once you log in, search for your store among the retailers. Once you click on the store through Rakuten, it will automatically generate the cash back for the specific percentage when you complete your purchase.
The money will sit in your account until you reach the $25 threshold and payment will be sent every 3 months via PayPal or paper check.
Another great way to earn with Rakuten is to install the Google Chrome browser extension. Whenever you're shopping at a Rakuten partner retailer, the extension will alert you of any deals or opportunities to receive cash back. All you have to do is click the alert and continue shopping.
If you link a credit card, you can even get cash back for in-store purchases if you use that credit card. In the past few years that I've been a member, I've earned over $1700 back for purchases I would have made regardless! Just click here to sign up and get started saving today!
Ibotta: $20 Sign-Up Bonus
This is another app that gives you cash back for purchasing, but you use it for in-store purchases at local stores, including supermarkets, restaurants, clothing retailers, and more! It's great because you always need to buy groceries, right?
How it works: Ibotta tracks what store you're in and will alert you of brands or categories of items. If you end up buying them, just scan your receipt after purchase by taking a picture of it with your phone. You will then receive cash back for those items.
An easier way to receive the cash back is to register your store loyalty card (if they have one) with Ibotta and you will automatically get credit for your purchases without having to scan the receipt. This eliminates a big step and ensures that you never will miss the cash back.
Users new to Ibotta can receive up to a $20 welcome bonus by creating an account and redeeming offers within the first seven days of signing up. You can also receive bonuses when referring friends and redeem the cash you accrue to your PayPal or Venmo account or gift cards.
The trick is to always remember to check the app when you're at the store and don't forget to submit your receipt! You could be missing out on valuable money by neglecting to use it.
Download the App and use my referral code MPEOORF to get started.
ShopKick: $1 Sign-Up Bonus
This app is awesome because it doesn't require you to even make a purchase to earn points towards free gift cards! All you have to do is walk into stores (that you're already shopping at) like Target, TJ Maxx and you get points.
You can earn even more points for scanning items in the store or purchasing the featured products that you scanned.
So while you're out shopping, take advantage of racking up your points to earn gift cards to use on your shopping trip that same day! Click here to download the app to your phone to get started.
The bonus for this app isn't as high (250 kicks/points) for signing up, however it's much easier to accrue points because you're not required to make purchases.
Remember to register all of your credit and debit cards that you may potentially use so that you never miss cash back. The app will automatically pick up the purchase you made with that credit card and reward you that way.
Drop: $5 Sign-Up Bonus
This app also gives you points for purchases you make at their selected stores, which for me include Target, Walmart, Chipotle, Bath & Body Works, etc. So stores I already shop at!
How it works: Once you sign up for the app, you will select up to 5 stores in which you are a frequent in-store shopper. These will be the only stores that you automatically get points or cash back for.
Then you link the credit cards that you'd be using and it automatically gives you points every time you make an in-store. You can also earn points similar to all the other apps by making an online purchase through the app.
Redeem these points for gift cards once you reach the threshold amount. Drop is great because you don't have to worry about going in the app everytime you purchase. It automatically generates your alotted points from the credit card used.
Get 5,000 free Drop points to start when you use my code yqxn7 and start earning cash rewards.
Dosh: $5 Sign-Up Bonus
How it works: Once you sign up for the Dosh app, connect your credit and debit cards that you would use to make a purchase. Whenever you make an eligible purchase with a linked card, you'll get automatically credited.
Dosh links directly to your credit or debit card so when you shop at any of their thousands of partner restaurants or retailers in-store, you'll receive up to 10% cash back on your purchase- automatically! This way you don't have to worry about choosing your retailer beforehand.
You can also get a free $5 for every friend you refer who signs up and links a card to their Dosh account.
2. Get Free Money For Doing Simple Online or In-Store Tasks
There are companies that will pay you to do simple tasks online or in-store. Whether it be clicking on links, taking surveys, or scanning products
The WeAre8 App lets anyone be an influencer! You simply download the app, connect your main social media platforms (Instagram, Facebook, Twitter), and choose a brand to work with.
The company will offer paid sponsorships for simply posting a photo on your social media with their brand in it. You only have to select sponsorships that you want to do and it's super simple.
The pay out ranges around $5-$10 and I've even seen ones for $15-$25.
The great thing about this app is that it's based on the premise that everyone has an influence over someone, no matter how many followers you have. So get on WeAre8 and have fun with it!
SwagBucks: $10 Sign-Up Bonus
This website gives you points for completing short tasks like clicking on webpages, watching videos, completing surveys, or shop online. Just skim around the site and I guarantee you'll find free tasks to get points for.
Similar to Rakuten, Swagbucks offers a $10 bonus for making your first purchase of $25 through a participating retailer on their website. If you have your eye on something you will already be buying, that's the best time to sign up.
In addition to cash back for online purchases, SwagBucks includes a bunch of simple tasks as a way to stack up your points which you can cash in for gift cards down the road.
You can find ways to get points by signing up for free trials, give your email address to get newsletters , watching videos, or completing surveys. These tasks don't cost you anything, but you still get rewarded!
Click here to get started and earn a bonus just for signing up.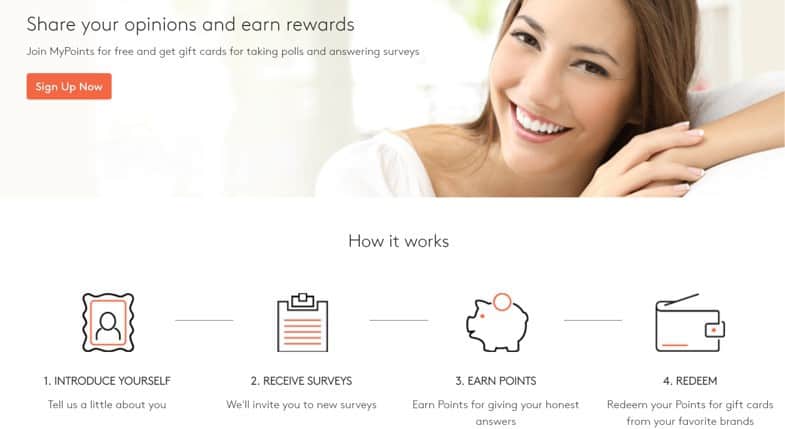 MyPoints is affiliated with Swagbucks so both sites work similarly. You can earn rewards with MyPoints for shopping online, playing games, taking surveys, and reading emails from their partner companies.
When you create a MyPoints account, you'll receive a $10 bonus after you make $20 worth of qualifying purchases in your first 30 days. You earn even more bonus points for referring friends and receive a percentage of the points that they earn for the lifetime of their account!
You can cash in your rewards for a gift card, travel miles, or free PayPal cash.
InboxDollars is also similar to Swagbucks. They pay you for taking surveys, watching videos, and shopping online.
However, InboxDollars also rewards you just for reading their emails. Every time you confirm you've opened an email, they'll reward you with cash.
The $5 sign-up bonus for new members. You need to accrue $30 in points/rewards in order to withdraw your earnings but with all the options for earning rewards, that shouldn't take long to achieve.
In Destination Mode, you tell the ride service where you're headed and the app will only give you rides along your route. So in a sense, it's basically like getting paid to drive where you would already be going!
As a car owner, you can around $5+ per hour just by letting someone else borrow your car.
In addition to payment, you'll receive 24/7 roadside assistance and $1 million in primary insurance coverage, so you don't have to worry about damages from renters. You can also write off the mileage and any auto service on your car as a business expense and of course, you're not responsible for gas used during the rented trips.
This idea can be a little nerve-wracking at first because you would never want something to happen to your car. However, I did this for a few months while I lived in a city and there were never any incidents and I got paid very well for it!
3. Get Free Money from Your Car or House
Cars depreciate in value as time goes on so they rent the best investment/asset to keep around other than getting you from point A to point B. That's why it's a smart idea to look into these programs that will pay you for temporary use of your car (without you having to do any work).
Most vehicles lose value over time, so you'll probably never sell your ride for more than you paid. However, there are a few ways you can use your car to bring in some free money to offset gas and maintenance costs.
Getaround (Peer-to-peer rideshare)
If your car sits idle for most days or weeks, turn it into an extra source of income with Getaround. When someone wants to rent your car, they can do so straight from the app.
This is a great opportunity if you live in a city with a vehicle. Since most people don't have cars in major cities, this is a cheaper way for them to rent a car for a road trip.
You don't have to worry about meeting up to exchange keys or handling the logistics. Getaround puts a system in your vehicle that allows the renter quick and easy access to your car when needed.
You just give them the availability of your car and location where it's parked and the renter takes care of the rest. However, the convenience of not having to meet up with the renter does come with a fee.
Turo (Peer-to-peer rideshare)
Turo is very similar to Getaround as a service that allows others to rent your car for short periods of time. However, the main difference is that Turo does not have a system that lets the renter get access to your car without you.
So this feature can be a bit inconvenient if you're not always close by your car, but it does save you money in that you don't have to pay the service free for their self-unlocking software.
Again, this is a brilliant service to use if you have a car in a major city. Any other places, it would probably not get a whole lot of leads.
Wrapify turns your car into a moving billboard. Companies pay to advertise their brands on your vehicle while you drive around during your daily routine.
The more space you give them, the more free money you can make. Drivers who choose a full wrap can earn up to $450 per month!
How it works: Once you download the Wrapify app you'll find instructions on how to drive with the ads to ensure you meet minimum qualifications.
There may be a certain amount of miles per week that you need to travel in order to ensure the business is getting maximum exposure of their ad.
Once you qualify, Wrapify will alert you when campaigns are available in your area. They'll "wrap" your car so you can start to earn money for the driving you already do.
When your campaign is complete, the wrapping comes off clean. There won't be any permanent damages or marks to your car.
You may know Lyft and Uber drivers who are required to pick up and drop off strangers. That is definitely not what I would consider free money.
However, there's a hack that can help you earn with Lyft and Uber without straying too far from your normal routine. It's called Destination Mode.
Got a room in your house that you never use? As a VRBO host, you can rent out a room or space for short term rentals.
You can choose your prices, availability, house rules, and renters. Each guest and stay is verified and insured by VRBO.
You can check out VRBO's site to calculate how much you can charge and estimate your potential earnings.
You can choose to rent out an extra room while you're home or rent your entire space while you're away. Maybe you travel often for work, visit family, or go on vacation. This could be a way to help pay your rent or mortgage while you're gone.
4. Get Free Money for Opening a New Bank Account or Credit Card
Perhaps one of my FAVORITE ways to get free money is to open up new financial accounts whether it's checking, savings, or credit cards.
Many banks offer a cash bonus anywhere from $100-$500 when you open a new checking or savings account!
The terms vary from bank to bank, but you'll likely need to open an account, set up direct deposit, and keep it open for a few months.
This is a great way to make free money ONLY if you're financially responsible and can manage opening new bank accounts frequently.
It may require changing over direct deposits, automatic bill payments, and keeping an eye on multiple banks and accounts. That's why you must be on top of your finances and responsible enough to not think of credit cards as play money.
Open a High-Interest Savings Account
One of the easiest ways to get free money is to change your savings account. Many financial institutions offer a bonus incentive to switch to their banks and with high-yield savings accounts, that amount could be up to $2000 depending on the amount of money you will be transferring.
Online banks have a significantly higher interest rate than local brick-and-mortar banks. You could earn 25+ times more in interest by switching to a high-yield online savings account.
Many brick-and-mortar banks offer interest rates of 0.01%. Since online banks don't have the costs of operating physical locations, they can afford to pay customers 2.00% or more on a regular savings account, depending on the market rates.
Of course, the highest incentive is given to large accounts of $75,000 or more, but you can still make a few hundred bucks by just depositing $15,000. There is also no risk in putting your money in an online savings bank (as some may be wary of it) as long as they are FDIC insured.
There are plenty of banks with similar offers. Before you sign up, just be sure to read through the offer conditions. Keep in mind that your bonus is subject to taxes, so you'll need to report it as income on your taxes.
Open a Checking Account
Similar to the savings accounts, you can open a new checking account to get a bonus of $100-300. For example, the TD Bank Beyond Checking offers $300 to open a new checking account.
Keep in mind, you'll have to transfer all of your direct deposits and online bill pay accounts if these are features that you use. However, it can be worth it to put a couple extra hundred bucks in your pocket!
Open a Credit Card
Signing up for new credit cards that have a good incentive can be a simple way to earn a lot of free money. Some credit cards offer an extra $100-$400 once you're approved and meet the required minimum spend.
The Chase Freedom card is one that gives you $150 just for signing up, as well as 1.5% on every purchase, with no annual fee.
*This is ONLY a good idea if you are in a good financial situation and can afford to pay off your credit cards on-time every month. *
It's not smart to open and close too many credit cards at a time because it can be harmful to your credit score. This can affect future financial decisions like buying a house or car. However, it will only change it a point or two, so if you already have great credit, you should be fine.
If you can handle having multiple credit cards at one time and paying them off every month, it's smart to put all of your purchases on credit cards. Credit cards offer points as a cash back incentive so you end up saving more money this way.
It's a no brainer to earn cash back from credit cards, as long as you can pay them off on time. Sign up here to get started.
5. Find Free Money Within Your Spending
Even if it feels like you're living paycheck to paycheck, there's always some wiggle room in your budget to figure out a way to save.
Trim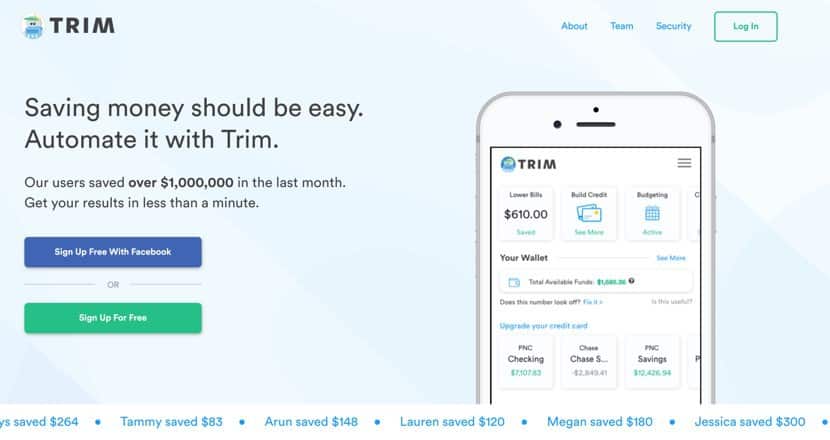 Trim is a simple app that checks out your spending habits to find easy ways to hold on to more of your money.
These automatic saving apps analyze your spending and show you where you could be saving more. So even though you're not bringing in additional income, it may feel like free money because it's money you didn't realize that you have.
Trim can negotiate your cable bill for the best current promotions, suggest subscriptions you can cancel, and even help you find more affordable car insurance.
If you're one of those people who barely look at their banking statements and don't have the time to haggle with insurance agents to get the best rates, this app is definitely for you! You're probably overspending for many of your recurring charges, subscriptions, and bills.
Let the pros handle it to save a few extra bucks a month at no cost to you!
Your Trim account comes with an overview of your current finances, spending alerts and reminders, overdraft fee detection and negotiating, and more.
If you want Trim to negotiate bills on your behalf, all you have to do is send them a copy of your bill or sign in to your account through Trim and give some information about your service provider.
Refinance Student Loans or Mortgage
It may not be free money in a sense, but refinancing loans will help you either save money in the long run or right now. If you have high-interest loans, you could save yourself hundreds of dollars per year by refinancing to a lower interest rate.
For example, if you have a $20,000 loan with a 6.55% APR and you refinance to a rate of 3.75%, you'll save roughly $600 per year in interest charges.
If refinancing sounds like it might be a good fit for you, a comparison site like LendingTree can help you get started. Select the type of loan you're looking for, fill out some information, and LendingTree will give you a list of potential lenders so you can easily compare your options.
Keep in mind that if you refinance your loan for a longer period, then you may end up paying less per month (but more in interest) over the life of your new loan.
While I would never suggest doing this from a long-term financial standpoint, but if you're looking for money now and have no choice, then it could be a good idea to extend the length of the loan. This would reduce your overall monthly payment, but cost you more as a whole.
There are always origination fees associated with refinancing, so do the math to make sure refinancing your loans makes sense. If the savings minus the fees end up in the positive, it's a good idea to do this.
6. Get Free Money By Selling Your Stuff Online
If you look around your house, I'm sure you can find plenty of opportunities to cash in items that are no longer of use to you. This is a great way to get free money for things that otherwise just take up space and collect dust in your house.
This will require some more of your time, but it's nothing that's too difficult.
Decluttr: Sell electronics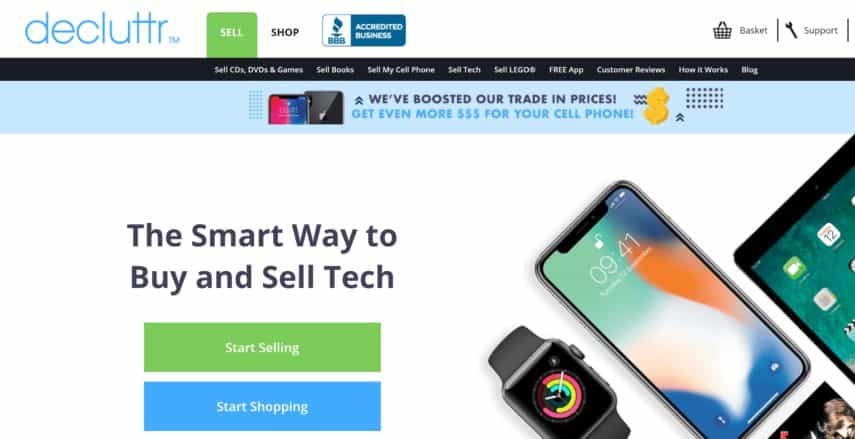 Those old DVDs and gaming systems that haven't been touched for over a decade could be worth more than you expect.
Decluttr accepts CDs, DVDs, video games, gaming consoles, smartphones, and all varieties of tech gadgets. You can get an instant valuation on the website before sending off your goods.
For tech devices, just select the make, model, and condition. For CD's and DVD's just scan the barcode. Decluttr will instantly show you what they're willing to pay, and you're guaranteed to get their first offer or request your item back for free.
There's free shipping too so it really is a win-win.
Sell gift cards
If you have any gift cards (used or new) laying around, you can sell them to get cash instead. You won't get exactly what the card is worth, but hopefully it won't be too much less.
So if that Bath and Body Works gift card has been sitting in your wallet for the last 2 years, sell it to CardCash and use the money for something practical.
Gazelle
Gazelle offers a similar hands-off selling experience for tech products with free shipping. Search for your device on their website, select the condition of your item, and get an instant quote.
When you find an offer you like, finish checking out and select check, PayPal, or Amazon gift card as your payment method once they receive your item.
Sell Your Textbooks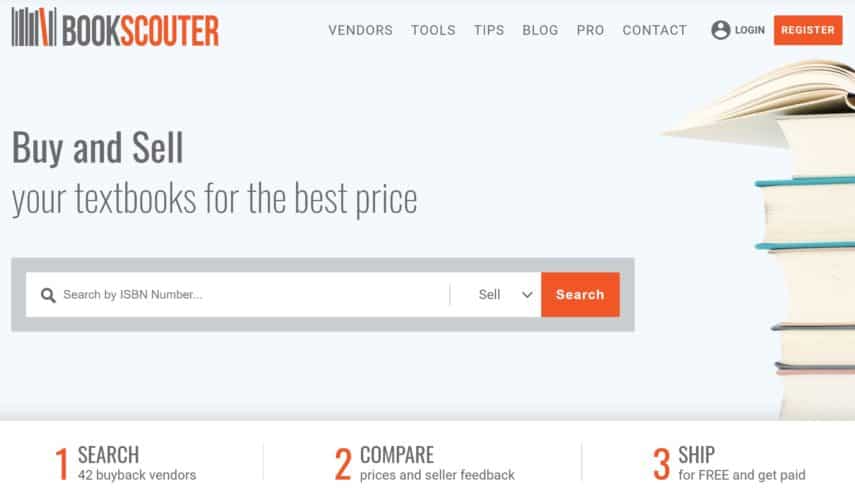 If you haven't already gotten rid of all your college textbooks, sell them online with BookScouter. The site serves as a price comparison tool so you can check over 30 buyback vendors to find who will offer the most money for your used books.
Simply go to BookScouter and type in the ISBN Number of the book you want to sell. BookScouter will search the ISBN on buyer sites like Amazon, Bookbyte, and Cash4Books and let you know the best price.
Opt for a vendor with free shipping so you don't lose any of your payment on that.
Sell Old Clothes
To get the most for your money from selling old clothes, try using an app to list and sell your items.
thredUP provides free Clean Out kits to help you sell your old clothes. Once your kit comes in the mail, fill it up with the clothes, shoes, handbags, and accessories you no longer want.
ThredUP actually acts as the middle man between you and the buyer so you won't have to take photos and manually do the listings yourself (which can be pretty time consuming). Therefore, you won't earn as much as if you sold each individual piece of clothing yourself.
This process takes most of the effort out of selling, which makes it feel more like free money than if you had to list items, message with buyers, and ship them out yourself. They cover shipping, but it may take a couple of weeks to get processed and paid.
Poshmark is another platform that lets you sell your old clothes, but it connects sellers directly to buyers. Here you'll have to list each item by taking pictures, adding descriptions, and setting the price.
Once an item sells, Poshmark will send you a pre-paid, pre-addressed shipping label and you'll see the payment within three days of your item being delivered.
Sell Your Junk Mail
Send your junk mail to the Small Business Knowledge Center and get paid for something you would otherwise throw away.
The SBKC collects email and direct mail related to insurance, investments, banking, credit cards, and more. Forward your emails and send your direct mail in a postage-paid envelope once a week to earn points towards Visa Debit cards.
Your personal information is kept 100% confidential. According to the website, frequent participants earn up to $20 in points every 6 to 10 weeks.
7. Other Options to Get Free Money
Here are some other ways to get free money by putting in pretty little effort:
Get Paid to Lose Weight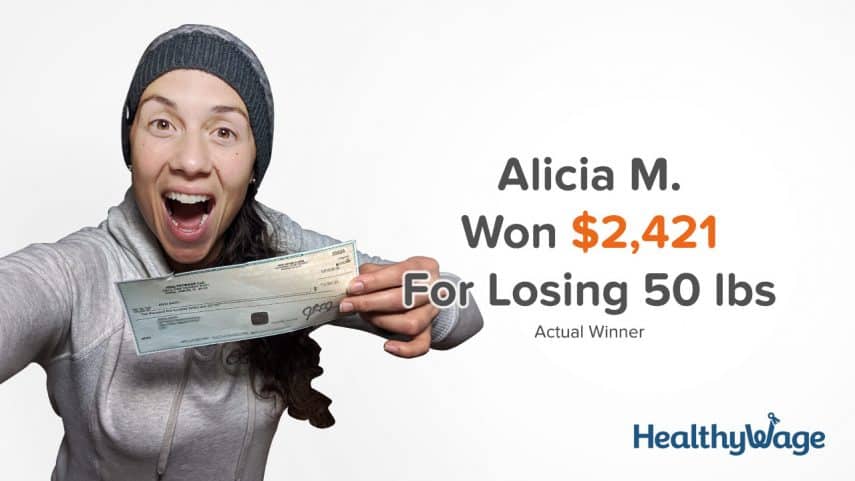 If you already have a goal to lose weight, then free money can be a good incentive to keep you motivated. HealthyWage allows you to bet on yourself with a weight loss challenge.
With a personal challenge, you get to choose your entry fee and dates. If you meet your goal, you'll get the predetermined prize amount. If you don't quite make it, HealthyWage will keep your money to pay future successful challenge winners.
Team challenges require five willing participants. You can either create your own team or be matched with one. The team that loses the greatest percentage of total weight wins the grand prize of $10,000.
Sell Your Plasma, Sperm, or Eggs
Some of these procedures require a lot more effort than others, but it doesn't involve actual work so you can consider it free money.
Differing from donating blood and platelets, you can actually sell the liquid part of your blood (plasma). The procedure of extracting plasma is similar to drawing blood but takes a lot longer.
More blood is taken out, plasma is separated, and then the blood is returned to your body. The procedure takes about an hour and a half and can make you $20-$50 each time.
You can also head to your local sperm bank and donate sperm for cash.
Selling a man's sperm is a noninvasive, simple way to make some extra cash that doesn't require an actual procedure. However, you must meet certain eligibility requirements and may need to commit to donating a few times, but you can make anywhere between $35-$125 per donation.
Selling a woman's eggs is an invasive procedure that requires a lot of preparation, surgery, and a hospital stay. It's not easy money by any means, but you can actually make close to a full year's salary by doing it!
The average pay can be anywhere from $10K-$50K per donation, but it is a very involved procedure that you may not feel is worth the risk.
Check out some other ways to sell your body to science to make money.
8. Get Free Money from the Government
In certain circumstances, you may qualify for free money from the government. Check out the sites below to see if you'd qualify.
Find unclaimed money
Unclaimed.org is a way to connect U.S. residents with "forgotten" money from their state treasurers. They may be things like old security deposits on apartments and utilities, uncollected insurance reimbursements, or account credits that were never used.
MissingMoney.com is a similar site and works by searching all participating states to find your family's missing, lost, and unclaimed property, money, and assets.
Just head to those websites to find out if you have any missing money that you can collect from yourself or family members.
Federal Grants for Students
A Federal Pell Grant for Education gives help if you need it for college. Unlike student loans, grant money doesn't have to be paid back.
A Federal Pell Grant can offer as much as $6,195 (2019-20 school year) to students for each year that they qualify. Qualifications are typically based on income and are given to those with a financial need.
Child Care and Development Fund
There may be government assistance if you're having a tough time covering your childcare expenses. The U.S. Department of Health and Human Services has a directory of state and local contacts you can check out to see about getting help with childcare costs.
Low Income Home Energy Assistance Program
According to the U.S. Department of Energy, the average U.S. family spends at least $2,200 per year on energy bills. Nearly half of that goes towards heating and cooling. Depending on where you live and your income level, the Low Income Home Energy Assistance Program (LIHEAP, for short) may be able to help cover those costs.
Look For Ways to Get Free Money Everywhere
There are many options to get free money, you just have to know where to look. Nothing comes free without a little effort. Therefore, if you invest time into one of these areas, you are bound to get a little or a lot of free money.
Also, don't spend money to make money! If you're going out of your way to make a purchase just because you will get money back for it, that is not a smart financial decision.
These ideas are merely here to show you that everyday things that you may already be doing can be earning you dollars.
For more ways to make money, check out these 40 Easy Ways to Make Money Fast.
Eugene is a Chemical Engineer with a passion for personal finance and is constantly learning new tricks to make his money work for him.  He obtained an MBA part time and hasn't stopped finding ways to make money, save money, and properly invest money.  He currently lives at the Jersey Shore with my wife and two children.